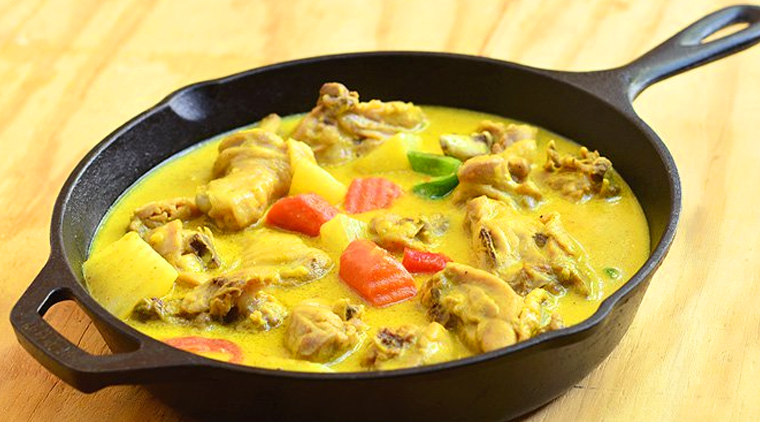 Curried Chicken in Coconut Milk
Curried Chicken in Coconut
Ingredients
2 whole chicken breasts
1/4 cup Vinegar
4 cups water
1 teaspoon salt
1 teaspoon all purpose
2 tablespoon cooking oil
2 tablespoons curry powder
2 tablespoons ginger, chopped
3 cloves garlic, minced
1/2 teaspoons scotch bonnet pepper, finely chopped
1 stalks escallion, chopped
1 pack Coconut Powder
1 sprig thyme
1 whole scotch bonnet pepper
2 tablespoons red sweet pepper
2 tablespoons green sweet pepper
2 tablespoons yellow sweet pepper
Instructions
De-bone chicken breasts, cut into strips and wash with a vinegar and water solution, season with salt and all purpose.
Heat cooking oil in a large skillet, add curry powder and allow to burn; add ginger, garlic, scotch bonnet pepper and escallion and stir.
Add chicken breasts and mix well. Allow to cook for 5 minutes.
Add coconut milk, mix thoroughly.
Add thyme green, yellow, red sweet peppers and the whole scotch bonnet pepper and allow to simmer for approximately 7 minutes.