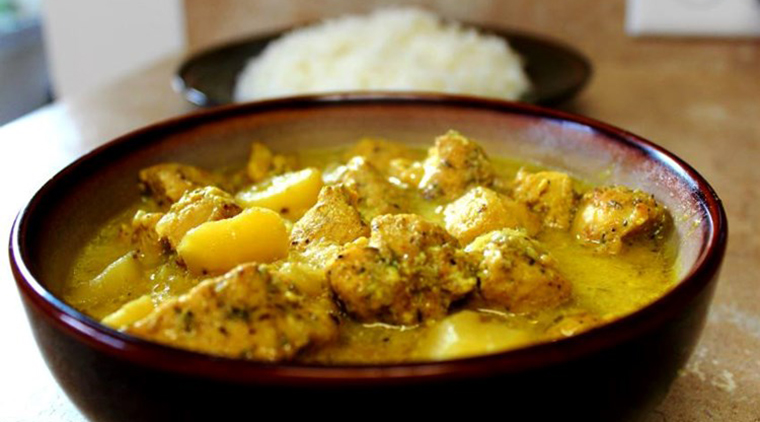 Curry Chicken
Curry Chicken is easy and delicious! If you like the ingredients in the name, you'll love the dish.
Ingredients
4 Cloves garlic, chopped finely
6 tbsp Curry Powder
3/4 tsp Black pepper
3 tsp Salt
2 Tbsp Lemon juice (for washing chicken)
4lbs Chicken, chopped in small pieces (remove skin)
1/4 Small green bell pepper, finely chopped
2 Tbsp Cooking oil
1/4 Small red bell pepper, finely chopped
1 Large cooking onion, chopped
2 Medium potatoes, cut in 6 pieces each
3 cups Water
1 Tbsp scotch bonnet (optional)
1 Tbsp Tomato ketchup
1 tsp Dried thyme or 1 sprig fresh thyme
1 tsp Cumin seeds, not powder (optional)
Instructions
Cut chicken into serving pieces (not too small) and remove and discard skin.
Pour lemon juice over chicken, wash in cold water, drain well and dry with paper towel
Season chicken with 2tsp salt, black pepper, 3 Tbsp of curry powder and chopped garlic
put chicken in fridge for 1 hour or over night
Add cooking oil to saucepan and heat on High
Saute cumin seeds for 1/2 minute
add chopped onion, green and red bell peppers
Add thyme, pepper sauce, 3 Tbsp curry powder, 1 tsp salt and tomato ketchup
Saute onion and peppers until just tender
Add 1 cup of boiling water and, when sauce is boiling, add chicken.
Fold in chicken until it is well covered with sauce and seasonings
Add 1 1/2 cups of boiling water; cover and bring to a rolling boil
Lower heat to medium, add potatoes and add 1/2 cup water, cover and simmer (slow boil) until chicken is tender and sauce thickens (about 1/2 hour)
Taste and adjust with salt, if needed.