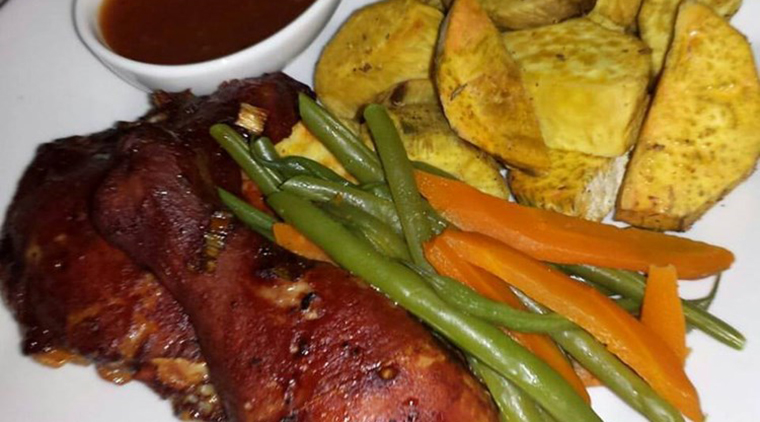 Baked Chicken with Rum Sauce
This dish was inspired by Jamaican's love for Rum. A lovely dish with which you can taste the culture.
Ingredients
½ Teaspoon of Cooking Oil
Ingredients for sauce
¼ Cup Pineapple Juice (Dole)
¼ Teaspoon Scotch Bonnet Pepper (minced)
½ Teaspoon Soy Sauce
1 Teaspoon Browning
½ Teaspoon Black-pepper
½ Teaspoon Paprika
2 Tablespoon Fish and Meat Sauce (Grace)
1 Tablespoon Chicken Seasoning (Maggi Season UP)
3 Cloves of Garlic (minced)
1 large Stalk of Escallion (diced)
1 Sprig of thyme (separated from stalk)
1 Medium Onion (diced)
4 lbs Chicken/ 8-10 Mixed Chicken Parts
3 Tablespoon of Ketchup
1 Tablespoon Brown Sugar
1 Tablespoon Ginger Extract (Home Choice)
2 ½ Tablespoon of Appleton Estate Rum (V/X)
Instructions
Clean and Cut Chicken
Season chicken with chicken with above herbs and spices indicated for marinate
Leave to stand/marinate for 30-40 mins in the refrigerator
Pre-heat Oven to 200°C
Line baking tray with foil paper
Place chicken on baking tray with the skin side facing up
Add the following to the remaining juices from marinate and combine thoroughly
Cover with foil paper and bake for 40 minutes (clear liquid should run from the meat once cooked)
Take tray from the over, remove tray foil paper and apply base evenly coating all pieces of chicken
Return to oven and bake without covering for 10-15 minutes.