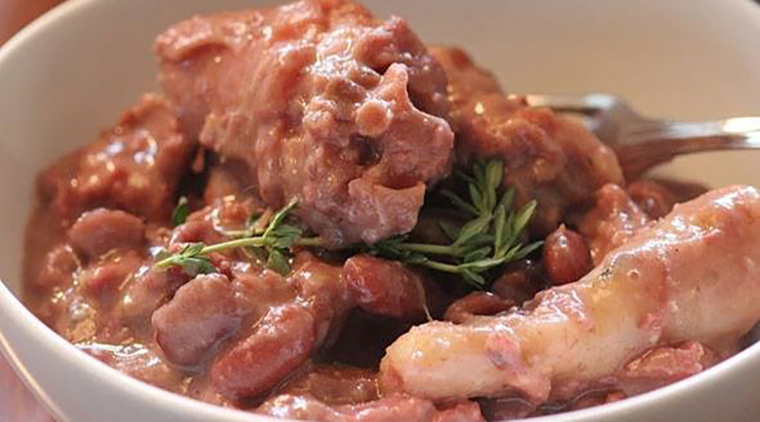 Stew peas recipe
Mouth watering Kidney Beans cooked down in seasoned coconut milk with Pigs Tail/Salted Beef to give you that spicy Jamaican flavour.
Ingredients
1 lb. Red Kidney Beans (red peas)
1 packet Grace Coconut Milk Powder
3 pints. Water
2 oz. Cooking Oil
2 sprig Thyme
2 stalk escallions
1½ tblsp. Salt (optional)
½ lb. Flour
¼ lb. Salt Beef
1 lb. Stew Beef or/and 1 lb. pig's tail (chicken can be used as well)
Instructions
Soak the Salt Beef or/and pig's tail overnight (if time allows), or boil for about 20 minutes if you got the ingredients today and want to start cooking immediately. This will stop the stew from tasting too salty.
Wash Red Kidney Beans and remove discolored beans or any foreign matter.
In a 2-quart stock pot, add beef products and beans.
Cook beans and beef until they are soft (this will take some time; add water as needed).
Dissolve Grace Coconut Milk in 1/3 cup water and add to the boiled red kidney beans and bring to a boil.
While the other ingredients are cooking, you will have to make the little dumplings called spinners.
Add all the spinners to the pot of stew and cover the pot. Let the spinners cook for about 8 minutes.
Add escallions, thyme, black pepper, and cooking oil.
Cook for 5 minutes then mix a solution of 1 tblsp flour and 1/4 cup of water to thicken the stew, this is called a flour paste;
Let it simmer for about another 10 minutes. Serve hot!